After crushing a 22-mile long-run, I went from a personal high to an all-time low almost pulling out of the Chicago Marathon.
Complete All 6 World Marathon Majors, Under Age 35 and All Under 3 Hours
In the summer of 2018, I moved to NYC from Miami and registered to run the NYC marathon. I hired a running coach and set an ambitious goal to run sub-3 hours for my debut marathon. After an intense training season, I completed the 2019 NYC Marathon in 2:54 – surpassing my goal. I fell in love with the disciplined training that energized my days and the competitive racing that resulted in the reward of beating my goal and pushing myself to my limits. After NYC, I wanted more. I set a goal to complete the 6 World Major Marathons: NYC, Berlin, Boston, London, Tokyo & Chicago. All by the age of 35. All under 3 hours. And all with consecutive Personal Records (PRs).
GOAL: Run all 6 World Marathon Major Marathons by the age of 35, all under 3 hours and all consecutive PRs.
2019 – New York City Marathon – 2:54:32 (PR)
2021 – Berlin Marathon – 2:49:17 (PR)
2022 – Boston Marathon – 2:46:33 (PR)
2022 – London Marathon – 2:45:28 (PR)
2023 – Tokyo Marathon – 2:55:17 (NO PR)
2023 – Chicago Marathon – ????
Chicago Marathon Training — Aiming for Sub 2:40
My goal for the Chicago Marathon was to run Sub 2:40. This required shaving 5 minutes off my previous best marathon time in London 2022 — 2:45:28, or 12 seconds per mile (6:18 to 6:06). My training was not reinventing the wheel but focused on 3 key objectives…
Building a strong base of weekly mileage (65–85 miles)
Getting comfortable at and below a 6 min per mile pace
Accomplish a training cycle with a newborn baby at home
Chicago Marathon Training – Hot & Humid
My training was as predictable as the sunrise in the morning, waking up at 5am and getting out the door to be back before my newborn son, Teddy's wake up at 7am. Nestled in the heart of Greenwich Village, I relied on 3 routes providing a diversity of conditions to replicate the course. My easy and recovery runs were on the Westside Highway.  For Sunday long-runs, I ran at Central Park, and for my mid-weeklong runs, I ran all through Brooklyn and then back to Manhattan. The daily predictability of the training created a mental comfort while the intense speed sessions and turbulent long-runs had me anxious and on my toes. When Teddy would have trouble sleeping, I would take him for some runs.  Also, enjoyed sharing many miles with friends!!
My Weekly Training Schedule:
Monday: Easy Run
Tuesday: Speed/Intervals
Wednesday: Mid-Week Long-Run (MWLR)
Thursday: Easy Run
Friday: Speed/Intervals
Saturday: Easy Run / Double
Sunday: Long Run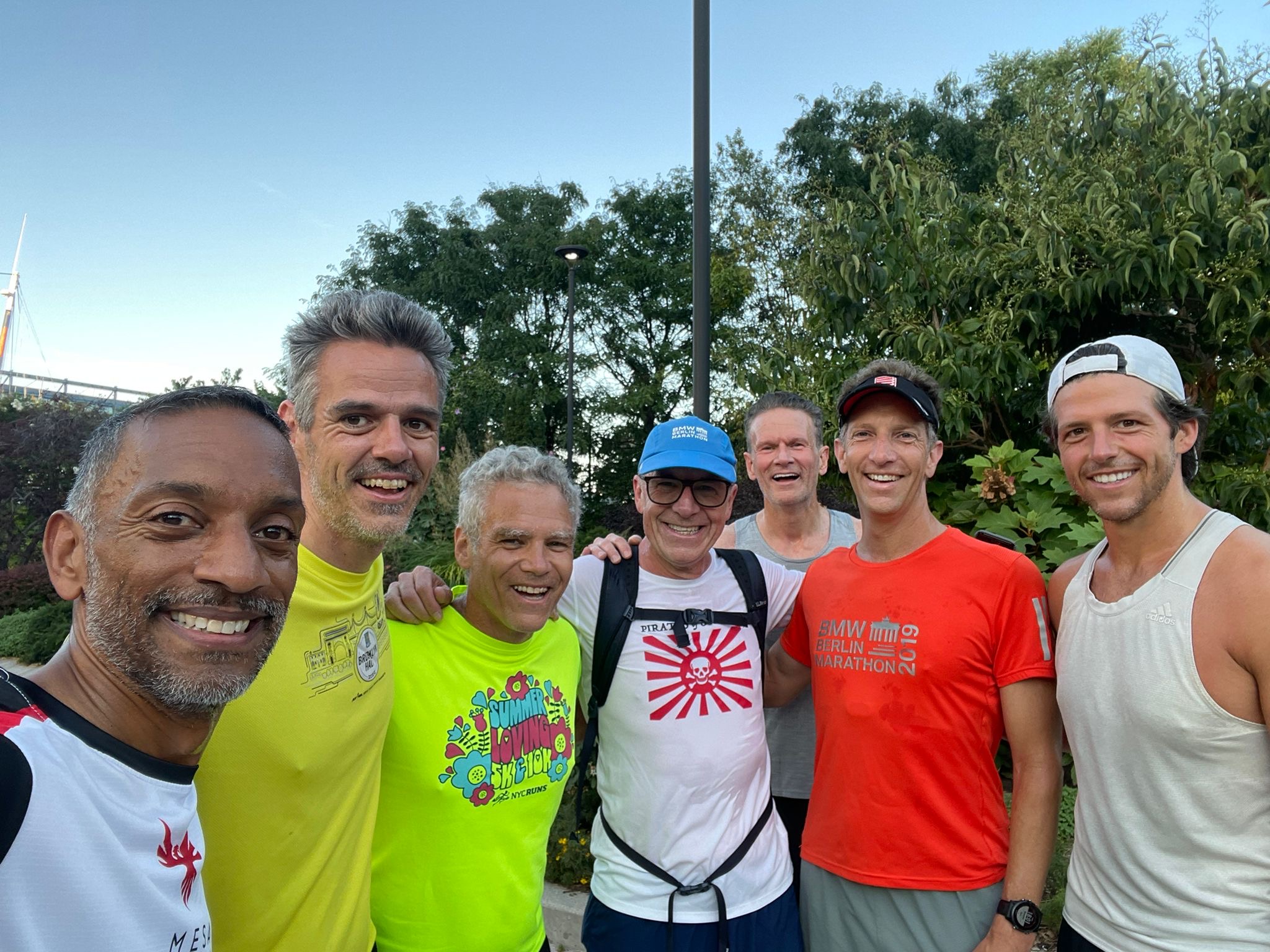 2 Runs were Key for the Chicago Training Cycle…
1. Saratoga 5x5k 21-Miler with Z
On a sunny, humid Sunday in Saratoga Springs last August, I laced up for 5x5k with my pal, Zareh. Running the backroads where horses were more frequented than people and horizons outfitted with lush green landscape was a treat compared to NYC buildings, traffic, and pedestrians. Moreover, taking Z's lead at the 5ks at a low sub-6 pace was a good first test for my mind and body leading up to Chicago.
2. The Faxon Half Marathon Flop
On a sweltering hot Sunday in September, I lined up to test my training progress by competing in the Faxon Road Race half marathon. With outsized ambitions of a 5:55 pace, I was met with resistance as the 90% humidity wore me down not just physically but also mentally. Instead of running smart, I attempted to stick paces in light of the blazing temperatures. At mile 8, I withdrew from the race. DNF.
3. The 22 Miler @ MP 3 weeks Out with Henry
With 3 weeks left of training before Chicago, I ran up to Central Park for my 22-mile long run – my last big run before my taper. The entire week I was anxious and mentally preparing for Sunday. After the flop in the Faxon Road race, I needed to bank a run that would leave my mind feeling confident I was ready for Chicago and that I would meet my goal. I also couldn't decide between two different race shoes  for Chicago— Nike Vaporfly 3 or Saucony Endorphin Elite. I decided to take the Vaporfly to Central Park and test the Saucony Endorphins the following week.
At 4:50am the alarm sounded. After a quick foam roll, I laced up the bouncy Vaporflys and ran a brisk 4-mile warm-up along Westside Highway to reach Central Park at Columbus Circle. I met my friend, Henry, a 2:36 marathoner who was tapering for Berlin the following week.
The crisp 60-degree air and low humidity felt fantastic after the intense heat wave we had the prior weeks (90% humidity). I ran two full Central Park loops relaxed with my watch turned off to prevent me from focusing on my pace. In the end, I looked at my watch and crushed the 22-mile run at 6:06 — my goal marathon pace. I felt ready.
From a Stellar Long-Run to Debilitating Back Pain
Three Days after my stellar long run, I ran 12 miles through Brooklyn. As I crossed the Williamsburg bridge towards Mile 9–10, I felt a sensation in my lower back. It was not painful, but it was not typically there. The next morning, I went to the gym — rolled, and performed exercises–quadruped, Roman chair back extensions. My back felt good. I finished with deadlifts and as I pulled the bar off the ground. My face winced, and my back tightened up as I felt extreme discomfort. I stopped mid-lift and dropped the weight.
I left the gym in pain…
Worse yet, I was leaving for an overnight flight to Florence in economy in less than 12 hours for a work trip. I rushed to figure out what was going on and fix this issue.
Beautiful Florence  Views but I couldn't run, stand, or sit without pain…
In Florence, I did mobility exercises and stretches to reduce the back pain from flaring up. The first morning in Florence, I woke up optimistic and laced up my shoes for a light run along the Arno River. It was 1/4 mile before the back pain took over and I had to cut the run short. I was frustrated and concerned.
The following day, I drove 30 minutes outside of Florence to Bagno a Ripoli, a small town overlooking the Arno Valley and the rolling hills of Tuscany. The beautiful views were tarnished by my focus on finding a position to avoid the pain of sitting. I adjusted positions like moves on a Rubik's cube to alleviate the pain. Nothing worked.
I called my wife worried and with a hopeless demeanor. Mentally, I was thinking about deferring the Chicago Marathon. Far from home, the excruciating pain didn't seem repairable in time.
A Last Minute PT Appointment with Auren
I flew back to NYC, landed at 5:30pm, and immediately saw my PT, Auren Manalo, for an emergency physical therapy appointment. The odds felt so low at salvaging this pain, that I contemplated canceling the appointment. I spent 75 minutes with Auren that evening working through the overactive back muscles, mobility, heat, and manual pressure, with a focus on "putting out the fire".
I woke up the next morning relieved of pain.
I was a little on edge, unsure if the pain was permanently gone or if this was simply a temporary fix. I texted my running coach to focus on the plan with the marathon only nine days away. I missed eight days of running during my taper and likely some of my fitness. I was worried the loss of fitness might hinder my race, but hope was restored knowing I could run the marathon.
We decided on two additional rest days to let the recovery process take course. I went to my Orthopedic Surgeon to rule out anything significant. I had an X-ray and MRI. She asked, "Are you going to run no matter what the results are?"
I clocked a 16-mile run on Sunday one week before the marathon and a 5×800 workout at a 5:45 pace on Tuesday to get some turnover on my legs. Also, the increased intensity was a good gauge for the back pain. Luckily, my back felt great with no sensation or pain. I felt relieved going into my flight to Chicago on Thursday. I could do this. Let's go.
Marathon Race Day — Perfect Conditions, Hoping My Back Holds Up…
4:45am hit on Sunday morning and I sprung out of bed well rested and beaming with energy. It was a night of complete silence. The night before, our 8-month-old son slept with my Mom and sister in their hotel room to avoid any late-night disruptions.
I put on my headphones to not wake my wife as I fed my ears Eminem furthering my excitement for race day. I sipped my pre-workout drink and showered carefully to avoid ruining the Kinesiotape on my back. I put on my racing singlet, and short shorts, and laced up my Vaporfly 3s. I lathered on PR lotion, put my gels in the pockets, and made my way to the start line. I felt ready.
I slotted into the A coral. The crisp, cool 45-degree air furthered my adrenaline rush. "Today is your day," I told myself.
The Start
I took the first few miles slower than my goal marathon pace. I let the crowds dissipate around me and avoided any frustration from bobbing and weaving through the crowds. I planned to lock in a 6:05 min/mile pace.
Running on Feel; Not Pace
Compared to all my previous marathons, I took things a bit differently with the Chicago Marathon. Instead of constantly looking at the pace, I ran on feel. I switched my Garmin to Time mode – so even if I wanted to look at the watch, I saw the time of day and not my pace.
My mind was so tuned into the race, that I could barely hear the crowd or see buildings. It was just me and the finish line. At the halfway point, I checked my wrist for the time to see if it was aligned with my expectations. I felt great and time was on target.
I put in the work and needed to trust my body could handle the rest. By running on feel, I could prevent myself from 1) getting too much in my head (developing negative thinking patterns) and 2) allowing myself to preserve energy by not thinking.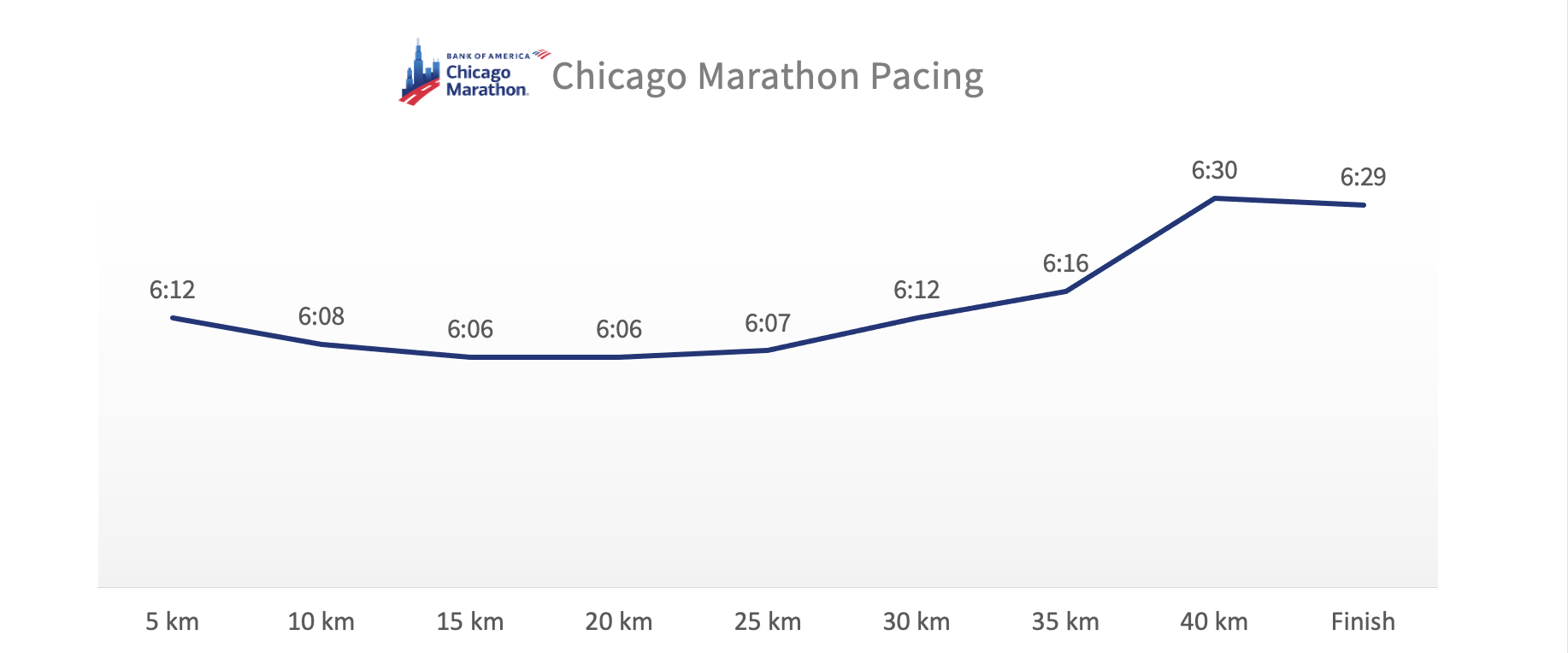 Mile 21 – Let the Race Begin
Mile 21 hit and I felt my pace become harder to maintain. "Jason, run your race," I said to myself. "This is what you trained for." Mentally, I was telling myself this is just another loop in Central Park. I was cautious to not deviate from my stride. Nothing fancy at this stage of the race. Just pure grit and sticking out stride after the stride.
When you slow down it can feel like the race is completely slipping away. I fought this mental pattern. I trusted my training will get me to the finish with a PR. The sub-40 goal was dependent upon how close I held my pace for the last 5 miles.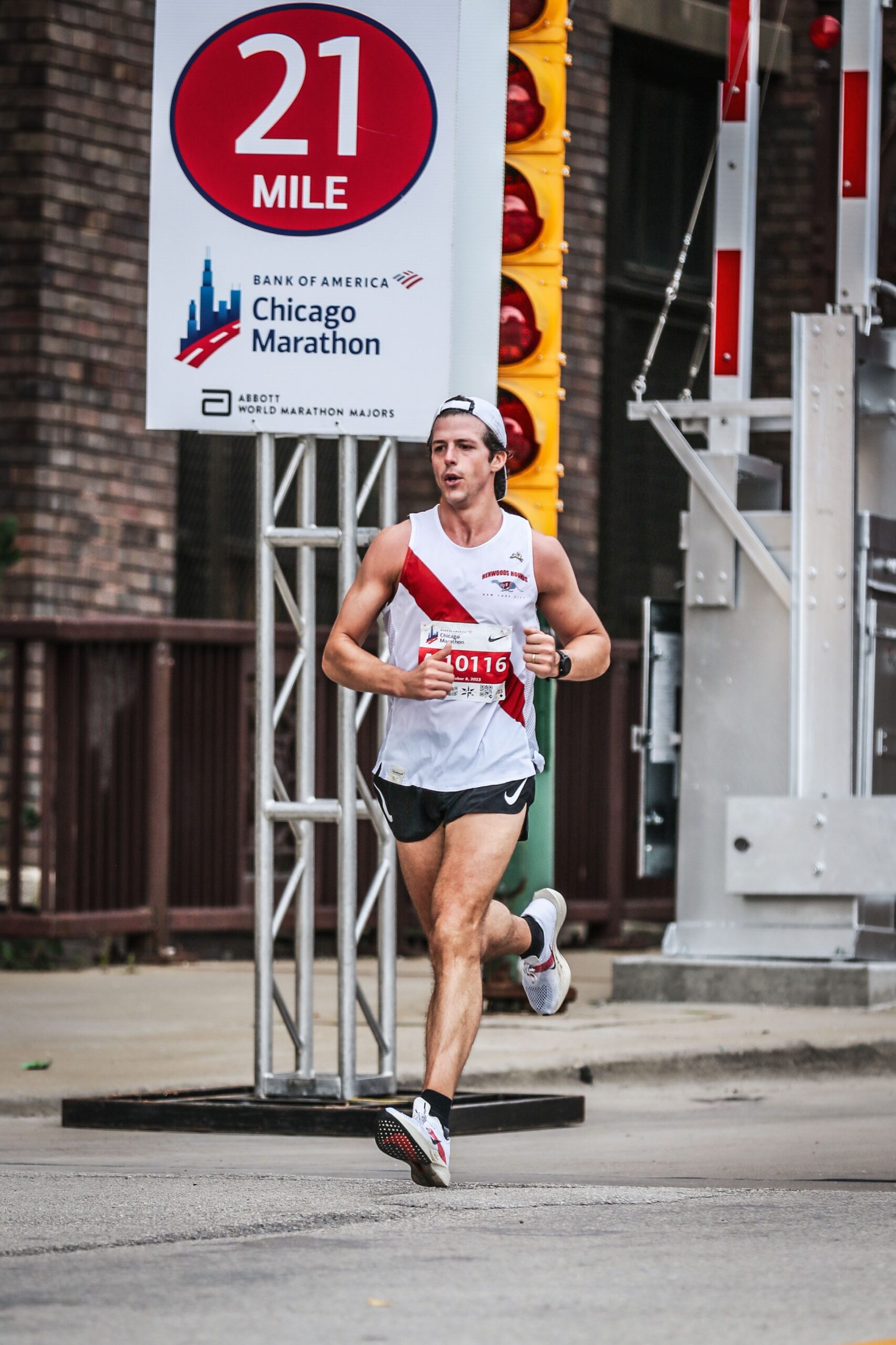 FINISH TIME: 2:42:47–3min PR…
I took the last left turn and knew the finish line was near. My glutes were aching but my mind was relieved knowing it was almost over. I crossed the finish line with a new personal record but was a bit disappointed that I missed my goal of running under 2:40. I thought of my family and celebrating with them. On one hand, I was happy to have shaved 3 minutes off my marathon time. But on the other hand, still wanted more of myself as I know I can run a sub-2:40 marathon.
Seeing my wife and son was a highlight of my finish. Being Teddy's first marathon, and it being my last of the 6 world major marathons, it felt incredible knowing he got to experience it and see it first-hand.  One day, I hope he can take the ropes and experience the feeling sports are for me for himself!
Finish Time: 2:42:47
Overall Finish: 704 Place
Age Group Finish: 113 Place