On March 5th, I ran my 5th major marathon — the Tokyo Marathon. After tearing an ankle ligament that curtailed my training, I ran a 2:55. Below is the summary of my training, assessment of the race, and my plans for what's next.
Coming off a disappointed London Marathon with 2:45…I wanted redemption in Tokyo…
In October 2022, I ran a personal best in London Marathon but was extremely disappointed. I was expecting to run sub-2:45 but left London reflecting on how I could improve for a better performance in Tokyo.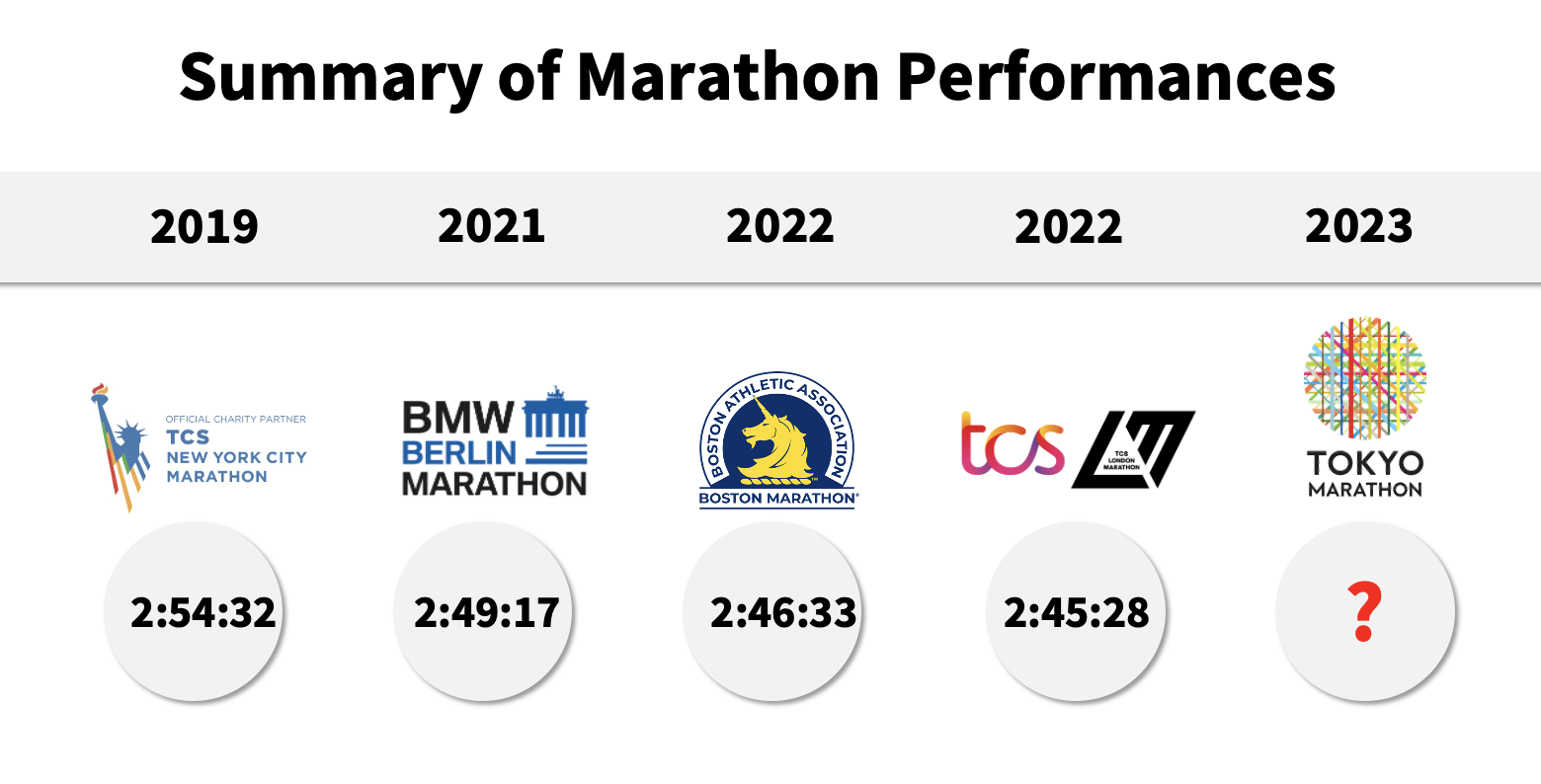 Focus on Smarter Training
For Tokyo, I switched up my training plan. I went back to my original coach John Henwood. When I look back at my past marathons, my best run marathons were in NYC and Boston.
Tokyo is an early spring marathon (March 5) requiring training to start well before the new year and throughout Christmas. Despite having solid training for London, I felt like I cheated myself during some training. As I think about my London performance and training, I realized there can be lots of improvement with discipline in the quality of training runs. I love running solo but competition is what unlocks performance.
Tore my ATFL and Adjusting Expectations…
On December 7th, 2022 on a brisk cold, and misty morning I took to the streets for a 1 run through Brooklyn. Less than 2 miles into the run, I crossed Bond Street, paved with cobblestones, to head to the Brooklyn Bridge. The moist air put a slickness on the cobblestones causing me to roll my ankle. I immediately stopped and looked down at my ankle which blew up like a balloon.
Should I Defer Running Tokyo?
I thought my foot injury was a minor sprain and was optimistic I would get back in a few days or a week at most. After urgent care, 2 orthopedics, and an MRI, it was worse than I thought. I completely tore my ATFL, one of four ligaments to stabilize the ankle joint. I wore a boot for 3 weeks (immobilized the ankle), and transitioned to an air cast for another week. I got back to PT and ran my first mile on January 6 — just a month post-injury.
My PT cleared me to start running again. I was energized, laced up my shoes, and started to run but my legs didn't run. I realized it wasn't just 4 weeks off but also mobilized which inhibited my ankle from its natural motion. My mind was being protective of my ankle and struggled to run a mile. I went back to PT and retrained my mind to get my movement back.
I knew 4 weeks without training meant a personal record (PR) was not going to happen so contemplated deferring Tokyo to 2024. However, I also really wanted to earn my 6th star in Chicago in October 2023. I decided to run the marathon and focus my 6 weeks before the marathon to see how much endurance I can build back.
Arrive in Tokyo
I departed from NYC on Wednesday, March 1st and after a 19 hour long-haul flight. I landed in Tokyo on Thursday afternoon. Upon landing, I immediately grabbed a cab to the hotel and decided to go to the Expo Hall to pick up my race bib as heard nightmare stories of excessively long wait times.
Crowded Race Start
The alarm sounded at 4:45am, I started my pre-race routine — shower, music, pre-workout drink. Being 16 hours ahead I was able to call my wife and get some pre-race support! The race start was in Shinjuku City, just a few minutes from my hotel. Being the first Tokyo Marathon since 2019, they had tons of safety protocols including temperature checks, COVID testing, and requiring runners to carry their phones.
I jumped into the C corral with hundreds of thousands of ambitious runners looking to tackle the 26.2 of Tokyo streets and iconic sites. The corrals and start waves seemed extraordinarily packed, creating excitement but also the challenge of avoiding getting tripped up by others. 3…2…1…The race started. I started out and stuck to a casual 6:35 pace.
Mile 6 — Picked up Pace
One of the defining features of the Tokyo Marathon is the numerous "out and backs" where you run a distance in one direction and make a U-turn and come back in the opposite direction. It is an interesting race course feature as you come eye to eye with different runners ahead of you and behind you.
"Go Jason" I heard screams from the opposite side of the street as I turn my head to see my running friends from NYC. Over 20 runners flew from NYC to partake in this Tokyo Marathon. For most, it was their 6-star!
I hit the first out and back and got into a rhythm and started to pick up my pace.
Mile 13 — It felt better than London
When I hit the halfway point at the London Marathon I realized this is going to be a long race and likely going to be a struggle at the end. Tokyo felt different. I felt relaxed. My breathing was under control. My ankle felt strong.
I could hear the sounds of legs reminiscent of crossing the Queensborough bridge in the NYC marathon. Despite streets being heavily lined with crowds, they were very silent. I later found out that this was a COVID thing. Spectators do not scream or make noise because it is believed they could spread covid.
Mile 21 — Pace slowed up
I saw the Gucci store and realized we were in Ginza, a major shopping area that I was in the day before. I felt closer. I had no energy to watch the runners on the opposite side. I focused on the finish line and kept my pace constant. My legs were tired. My arms began cramping and were mechanical preventing me from actively moving them.
40K to Finish
My head was focused on getting across the finish. I knew my time was well comfortably beneath 3 hours. My rough mental math seem to be in line with my NYC marathon time of 2:54. This motivated me to keep the gas going but also not to make any adjustments that would disrupt my rhythm. We reached cobblestone streets prompting worries about my ankle but quickly focused on the finish. The streets toward the finish line were lined with crowds that actually were cheering.
Finish Time: 2:55:33 (6:41 min/mile)
Race Review — Positive considering setbacks
My overarching long-term goal has been to run all 6 major marathons under 3 hours. Having injured my ankle and lost precious training, I was concerned I would not be able to run under 3 hours. Overall I was pleased with the performance despite my training setbacks. Running 2:55 was my worst marathon time but I am content considering the injury. I am most excited to get my last and final star in chicago
6th Star — Chicago Marathon — Sub 2:40
I am all registered to run the Chicago Marathon on October 8, 2023. This will be my 6th major which will get me the 6 star medal. I am setting the bar high and looking to get under 2:40 minutes which is 6:06 pace. This would require runnign 5 minutes faster than my London Marathon time in October 2022. I am looking forward to an intense training cycle ramping up in June!